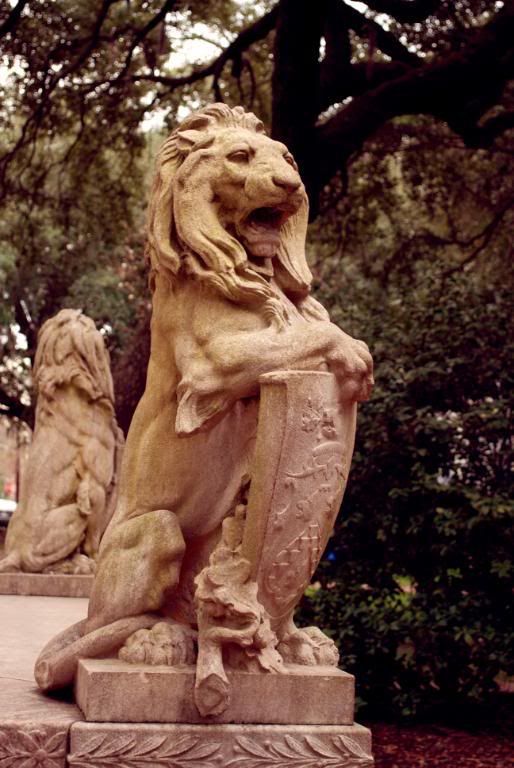 Georgia was founded in 1733 by British General James Edward Oglethorpe as the last of the 13 original colonies. Her position high on a bluff along the Savannah River was perfect for establishing a trade port--a port that would become the largest facilitator for "King Cotton" in the country.
It wasn't cotton, however, that was on General Oglethorpe's mind when he ventured up the deep waters of the Savannah River. It was sanctuary. He had left his native England with a two-fold mission. To establish a British presence north of the enemy occupied territory of Florida, thereby protecting the valuable colony of South Carolina from the Spanish, as well as establishing a refuge for England's poor and indebted citizens. This last colony would be named Georgia in honor of King George. Her first city would be Savannah.
General Oglethorpe recognized the importance of establishing a friendly relationship with the native indians that occupied the region. Soon he befriended the leader of the Yamacraw indians--Chief Tomochichi whose influence with the tribes of the region would assure Oglethorpe the successful, and peaceful settlement of Savannah. But peace would not be long standing in Georgia's first capitol city. As the thirteen colonies of Britain soon rose up in their fight for independence, war would meet her on her shores. In 1779 the Siege of Savannah claimed hundreds of lives, both Georgian as well as French allied soldiers fell trying to reclaim Savannah from the British. Their attempts failed and England retained the seaport until 1782, near the end of the Revolutionary War.
It was the antebellum era that saw the most favor in Savannah. Her port bustled with trade--cotton chief among her exports, as was rice and slavery. But the 18th century was far from a time of mere prosperity--it was also a time of death and destruction. The Yellow Fever epidemics of 1820 and 1858 claimed thousands of lives. The victims of which are buried in mass graves beneath her streets. In 1820 the city also experienced a devasting fire which destroyed more than 400 homes and businesses. Today very few buildings remain of the pre-fire era.
War would visit Savannah once more in December of 1864 when General William Tecumseh Sherman concluded his march to the sea, burning much of Georgia in his path. But Savannah was fortunate, for he did not set his torch against her. Rather, I'd like to think captured by her charm, he spared her by sending a telegram to Abraham Lincoln in Washington presenting her as a Christmas gift.
"I beg to present to you as a Christmas gift the City of Savannah, with one hundred and fifty guns and plenty of ammunition, also about twenty-five thousand bales of cotton."
Today Savannah still beckons to us with her stately mansions, gracious architecture, and picturesque squares that speak of a time gone by. She remains as a sanctuary for those who seek her out. Home to artists of every walk, her streets are living testimonies of her rich history and her incomparable charm.